Alex Lopatkin
Painter, Architect.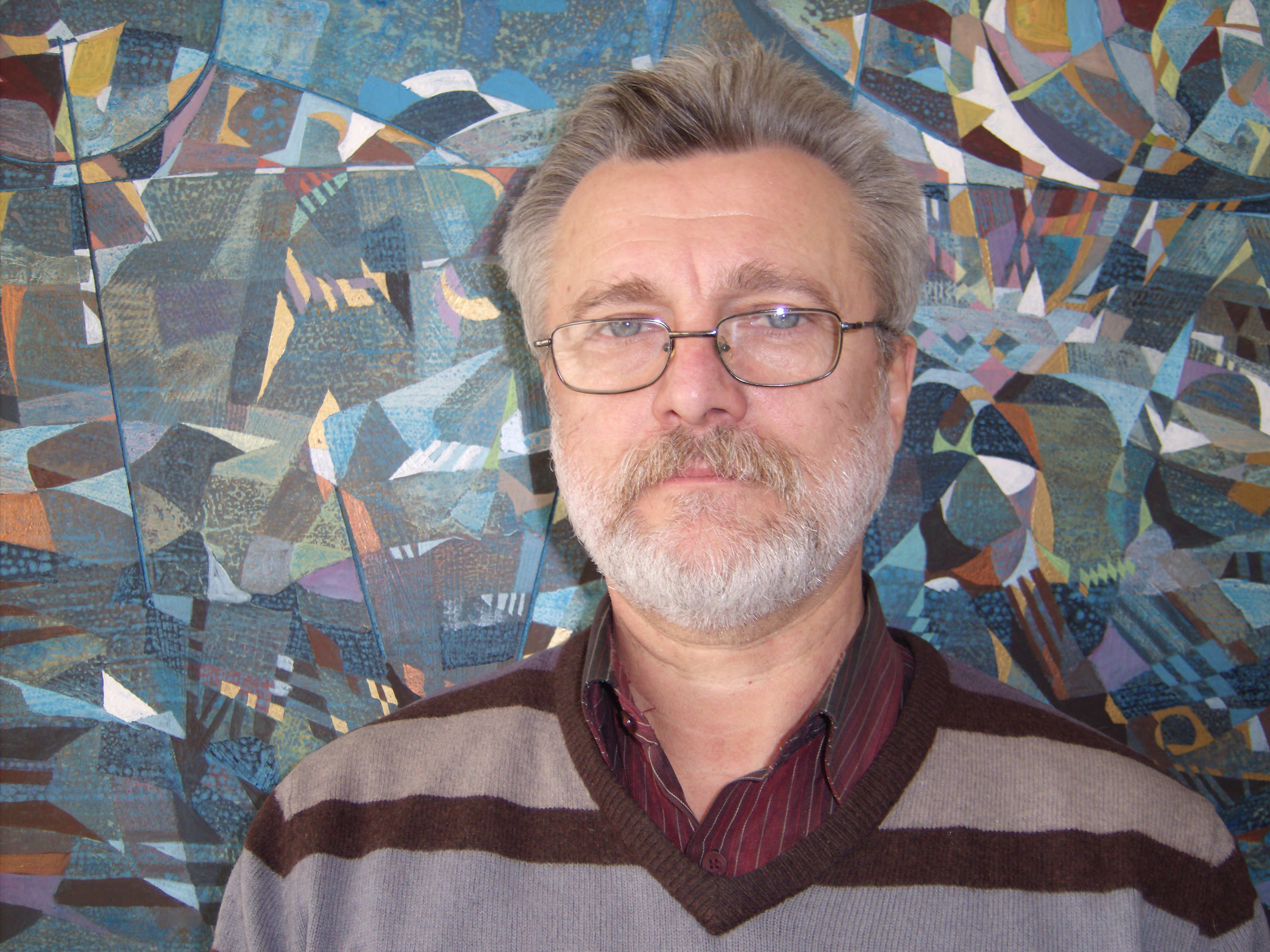 61 years old, Polozk, Belarussia. Painter, Architect Graduated The Repin's Leningrad highschool of painting, sculpture and architecture (Academy of arts), faculty of architecture,1977
member of association of russian painters
member of creative association of russian painters
head of design department at Art Fund RT
lecturer at Kazan art school
Participated in regional, federal, multinational exhibitions. His paintings are exhibited in following museums:
IZO RT,
National museum RT, Bulgar,
NKC Museum
Some of paintings are exhibited in private collections of Europe and USA.
Fleeting Impressions
Lopatkin Alexander Nartsissovich has lived his 60 of "fleeting impressions" interestingly and not always standard for an artist. He was born in Polotsk, Belarus, USSR. He has graduated from one of Zelenodolsk High Schools and studied at music and art schools there as well. These two passions of his – music and painting were constantly weaved into his life and have incorporated finally in abstract painting in which he has taken a great interest, faithfully, for a long time. However, A. Lopatkin had majored in architecture (it is appropriate to recollect a well-known expression on the architecture, comparing it to "the frozen music").
In 1971 he was admitted to Leningrad Institute of Painting, Sculpture and Architecture named after I.E. Repin, majoring in architecture. Unfortunately, it was always very complicated to be fulfilled in the field of pure architecture in our country, so it was not possible for our hero as well. However, he has managed to synthesize architectural knowledge as a designer while specializing in complex and widest palette of knowledge and skills.
While living in Kazan since 1989, A. Lopatkin had worked as an artist-designer at an Art Fund of RT. In 1991-1992 he was a participant of seminars in the Central training and experimental studio of artistic design of the Union of Artists of USSR under the leadership of Evgeniy Rosenblum, where he took part in the work projects for reconstruction and upgrading of the Moscow Arbat and city of Novgorod. Nowadays, this is a legendary studio, but back then, it has provided a foundation for one of the most important stages of design development in our country. The objective of the seminars was to incorporate artists of different creative specialties into design. Art has become the main focus of the studio as an aesthetic aspect of the designer's activity.
Orientation to art, rejection of purely scientific and purely analytical methods was established on Senezh's concept of artistic design (instead of artistic construction) as an original creative school of design. A method of artistic design can reveal not only functional, but also humanitarian and cultural properties of the subject environment. Senezh studio principles were revealed most vividly in work on expositions, majority of which had appeared as a sign of time for the 90's. These historical and art exhibitions were devoted to М.Sultan-Galiev (1992) and G.Iskhaki (1993). « Bread and destiny » (1994) exhibition as well as « Midnight dawn and bitterness of the Victory » (1995), « Tatars doniasi » (1997) – all were created at the "Kazan" National cultural center. The art work was connected together by the general conceptual plan: creation of the substantive environment of existence of a thematic exposition by means of sign fixing its major sections.
Specially made volumetric compositions from original showpieces, reconstructions, layouts, picturesque and graphic works and photos would serve as a sign reference points. Thematic symbols must help viewer in determining the route of exposition, just as a cipher would reveal the place and events in time, imaginatively and with artistic endnotes. Every detail of an exposition was made to commensurate with the scale of a different individual and to give a sign characteristic of a historical background at the same time. Emphasizing and pausing at critical moments as well as summarizing the authors' opinion helps to activate perception of the universal and the general cultural significance, disclosed in historical events or a particular historical figure.
Peculiarity of such expositions consisted of synthesis of the traditional principles of document representation by the means of art exhibitions which fundamentally change how the presentation of the material and its perception by the audience gives the interpretation of historical events, not only in the documentary, but also on the figurative level. This requires that the artist possesses not only professional skills, but also has an exceptional abilities and knowledge of director's art, history, literature. Precise presentation of the material with skillful arrangement of space in the exhibition hall as well as creating an appropriate atmosphere – everything serves as an integral embodiment of the idea of ​​the exposition and display of its cultural content.
As part of the creative teams, Alexander Lopatkin also participated in the design and implementation of facilities such as the National Museum of the Republic of Tatarstan; Natural History Museum and the Museum of Statehood RT in the Kazan Kremlin; interiors of the RT State Council and the Cabinet of Ministers, as well as working on the Museum of History of Medicine at the Kazan State Medical University.
As an architect, A.Lopatkin is an author of project monuments to Gabdulla Tukai in Ankara and Istanbul (author of the sculptures in this project is A.Minullina), as well designer of the park to G.Tukai in Istanbul.
In addition to numerous design and interior work expositions, Alexander Lopatkin for many years was engaged in picturesque projects, including non-objective painting. Abstract art in our country, on one hand, is considered to be almost a traditional phenomenon (if you remember that Russian artist V. Kandinsky is considered one of the pioneers of this style. A Rodchecnko also studied and learned the basics of constructivist art in Kazan), on the other hand, for many decades abstract art as an artistic movement, in fact, was missing, developing in vain. Nowadays, very few people can be surprised by objective art, though it requires no less creativity than art realistic.
However, reviving, it is not always understood by the viewer, who is not ready to perceive the unusual art, while not being familiar with its features. Nevertheless, abstractionism has long existed as a fact and Alexander Lopatkin is its successor. A particularly important role here is played by the fact that he's an architect and a designer, therefore his paintings are often design projects that have accumulated to a certain extent all the achievements of non-figurative art in an encyclopedia and now clearly demonstrate its cultural and aesthetic content. Abstract art in its essence is based on the formal elements – lines, color stains and diverted configurations. Works of abstractionism are devoid of reality as they reflect to the fullest subjective impressions and imagination of the artist, the stream of consciousness, giving rise to free associations, movement of thoughts and emotional empathies.
Works of A.Lopatkin to a greater degree can be attributed to the lyrical and emotional abstraction, as the compositions are formed of freely flowing shapes, color spots and lines, forming special plastic rhythms. This lyrical art is born from the search of the artist within himself for his inner vision. The artist's works appear in the first place under the influence of subjective impressions from music and literature. Hence – a kind of snapshot of a state of mind, embodied in expressive colors and causing musical associative of color combinations. Repeatability of compositions often sets an improvisational tone to the paintings of A.Lopatkin, development of ideas in various combinations. "Free Forms" can be represented in such areas of abstract art as lyrical abstraction, abstract expressionism, tashism, orphism, op-art, as well as geometric and hieroglyphic abstraction.
Numerous forms depict an artist as a designer, searching for expressiveness and decorative effect of his works. At the same time, it is essential to notice that experimentations with color and composition are not limited to the aesthetic function, but certainly provide food for thought and actively involve the viewer in associative game where one can see in an abstract composition echoes of reality, manifested at the level of plastic forms: this may be plants, landscape, old walls, whole scenes, ornaments, organic and urban forms ("Biblical garden", "Autumn lights a candle of gold", "Stretch of the wide sea," "The sea – bottomless world", "Gray side" and others. ).
Freedom of forms and associative expressions makes each viewer to understand their emotional state. Another important factor for the game of senses is the use of mixed techniques – collages in painting, difference between beautiful textures and materials, as well as spatial compositions and objects, developing the theme of musicality, designed to enhance and complement decorative and expressive effect of works.
Anniversary Exhibition "60 fleeting impressions" at the National Cultural Center "Kazan" told about one side of Alexander Lopatkin's creative life, master of monumental works and testifies a constant reference to chamber art, having a particular emotional response to inner spiritual experiences and events of daily occurrence.
Akhmetov Dina Irekovna, Research Fellow
Institute of Language, Literature and Art
G.Ibragimov the Academy of Sciences RT,
member of the Association of Art critics of Russia (AIS)